🥑Let Us Help You Beat Stress! , Real Estate – Tread Carefully?, Market Reversal This Week – Is it here to stay?, 🔥Hot Trades – Bull Call Spread, Collectibles – Wizards Too Much & Cracking Collectors Box, Hot Morbius Collectible (Netflix), Health – Foods to Decrease Cortisol (Avocado)
The best way to measure your investing success is not by whether you're beating the market but by whether you've put in place a financial plan and a behavioral discipline that are likely to get you where you want to go.
Ben Graham
Weekly Market Report
SPY and QQQ up over 1.47% and have closed above the 20 and 50 EMA lines.
The Fear index as represented by VIX was down about 10%. So, the market is back to "risk on" ?
GLD & SLV seem to have bounced off their lows with SLV up 4.15%
The dollar is at multi-decade highs but is showing some cracks, down 0.21% as the Euro traded up about .34% closing the week with a bullish engulfing candle.
Bitcoin regained 20K and now trades between the 20 and 50 EMA
Agriculture up over about 1.32% (DBA)
Oil lost almost 3% this week as showed by the decline in USO.
Friday 9/16 is the monthly expiration for September
SPY
Bitcoin
Nice jump this week. Watch for the Ethereum merge on or around 9/15.
Gold and Silver
FXE (weekly candles)
FXE (Euro) up about .34% as the dollar declined by about .21%. Bullish Engulfing candle from this week could be, well.. bullish? Compare to the US Dollar below.
Weekly Market Heatmap
All Sectors were up this week with Consumer Discretionary and Materials leading the pack up over 5% each. No sectors ended red, however Energy preformed the worst only up .80%. Even iPhone 14 Pros could not lift Apple.
Yields & Rates
source: 
koyfin
All 3 benchmark rates continue to rise and trade over 3% and gain more than 10 Bps each. The 2 year trades at the highest yield, 3.571%, higher than the 30 year and 10 year, remaining in an inverted state.
The VIX
The US Dollar
 The US Dollar retreated slightly, compare to the Euro above.
Earnings
Source: Earnings Whispers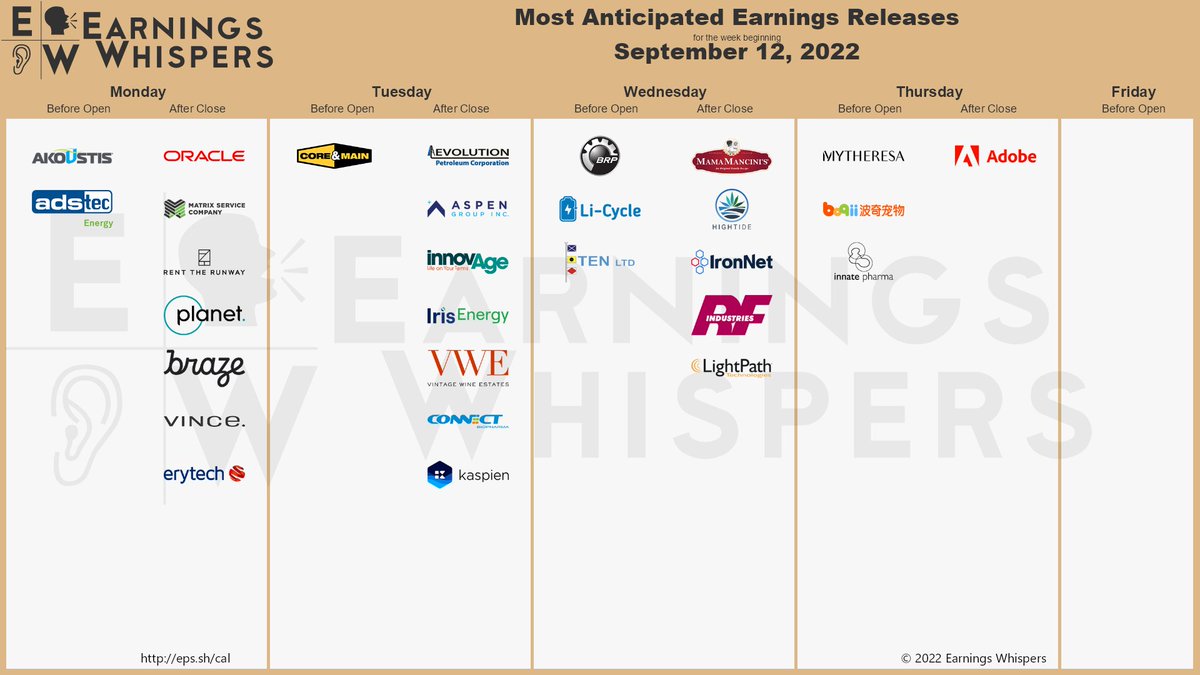 Collectibles
Wizards Too Much & Cracking A Collector's Box
Hot Morbius Collectibles (Netflix Show)



Watch Now!

Health – 🥑 Avocado, Foods to Decrease Cortisol
Cortisol is the stress hormone, that when over produced takes part in wrecking havoc on our health and well being. Fortunately there are some foods that can help beat back stress. Combined with other stress beating management techniques, we can harness the power of "good stress" and lower the damage done by the toxic kind.
We will be featuring foods each week that help us beat stress and reduce the damage of toxic stressors in our life, the first super food is the mighty Avocado!
Avocados – 🥑 Avocados are a source of vitamins C, E, K, and B6, as well as riboflavin, niacin, folate, pantothenic acid, magnesium, and potassium. They also provide lutein, beta carotene, and omega-3 fatty acids. Avocados contain high levels of healthy, beneficial fats, which can help a person feel fuller between meals.
***THANKS FOR READING & PLEASE SHARE OUR CONTENT***All rights reserved. Money Vikings, LLC is neither an investment or financial advisor. Money Vikings, LLC does not provide financial advice and none of the information being provided is to be seen as such. This is to include, but not limited to, any articles, videos and/or any other social media outlet presented by Money Vikings, LLC. All content is the opinions, beliefs, and personal strategies of the author(s) and owner(s) of Money Vikings, LLC (Greg, Jerry, and Bob). Money Vikings, LLC recommends that everyone do their own research, technical analysis, and develop their own conclusions, prior to initiating any trade activity supported by their own understanding, abilities, and risk tolerance. All trades carry inherent risk and proper risk management strategies should be used accordingly. Money Vikings, LLC does not guarantee results and is not liable in any way for losses incurred by any person or organization. Periodically, we may highlight services we are using and may receive compensation from their respective affiliate programs.