Table of Contents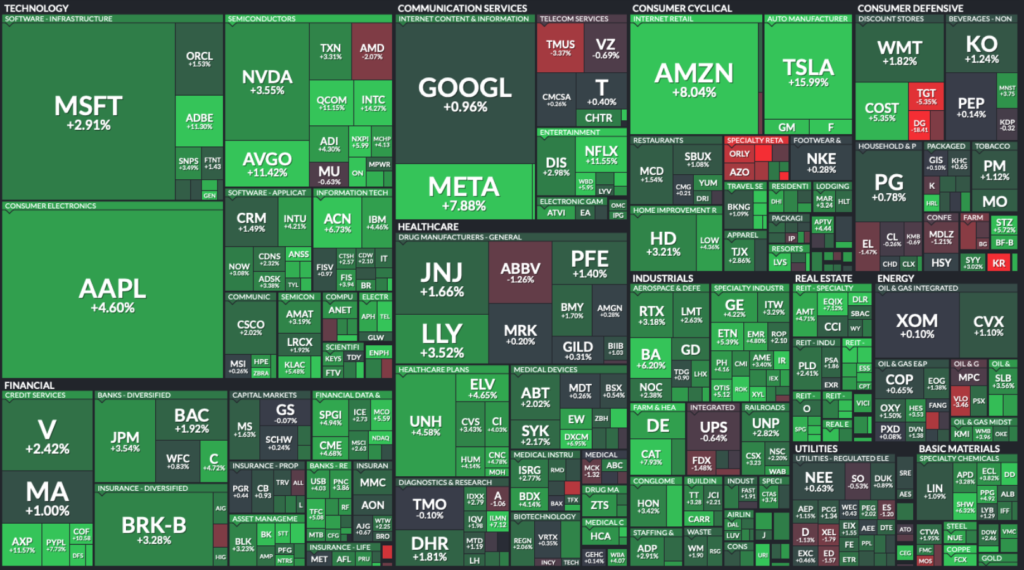 Subscribe to our Newsletter Today (Free!)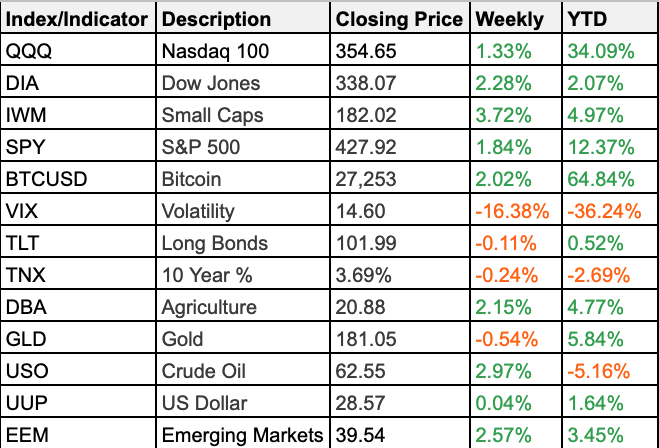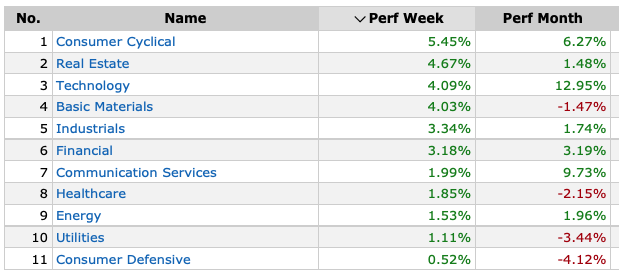 Purchase our Premium Plan – $10.00/month – Free Trial, Limited Time Offer! Trade Ideas, Investing Strategies, Help us Keep the Lights On!
Key Points From Last Week and Next
Key Points From This Past Week and Next
⬆️ S&P 500: Holding the 420 line in the sand, SPY rallied to 2023 highs, up 1.84% this week. On Friday, it gapped up and closed at 427.92. Note that 53% of the market is still below the 200 day SMA, but improving week over week.
✈️ Dow was up 2.28% for the week, with a huge rally on Friday, knocking out gains not seen since last November, trading above the 200 day moving average.
🧢 IWM Small caps gained over 3% on Friday, and 3.72% for the week. They are pretty beat up, but are holding the line.
🏎️ QQQ Gained 1.33% with Tech and AI, however other sectors are joining in this week.
💼 Rates/Bonds: TLT declined around .11% for the week, while the 10 year rate lost .24%, closing at 3.69%.
🚩Fed Watch: The CME FedWatch tool is reflecting a nearly 75% chance of no hike at the Fed's June meeting in 11 days
🎢 Volatility: The VIX declined over 16% and is trading near 2 year lows (14.60).
🛢️ Commodities: Agricultural Commodities were up 2.15%. Gold was flat, while Oil was up over 2.97%. Natural Gas retreated almost 10%.
🍔All Sectors were up this week, with Consumer Cyclical and Real Estate leading the pack.
📈📉 Economic Events Next Week:
6/5 — Services PMI
6/7 — Crude Oil Inventories
6/8 — Initial Jobless Claims
YouTube | Blog | Book | Podcast | Discord | ☕️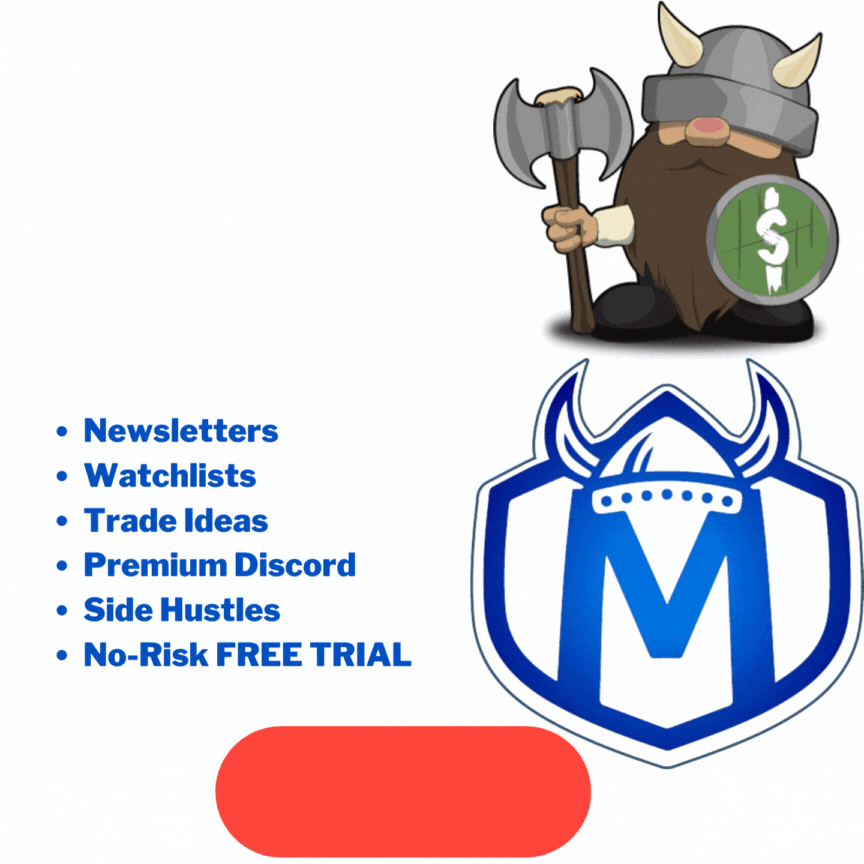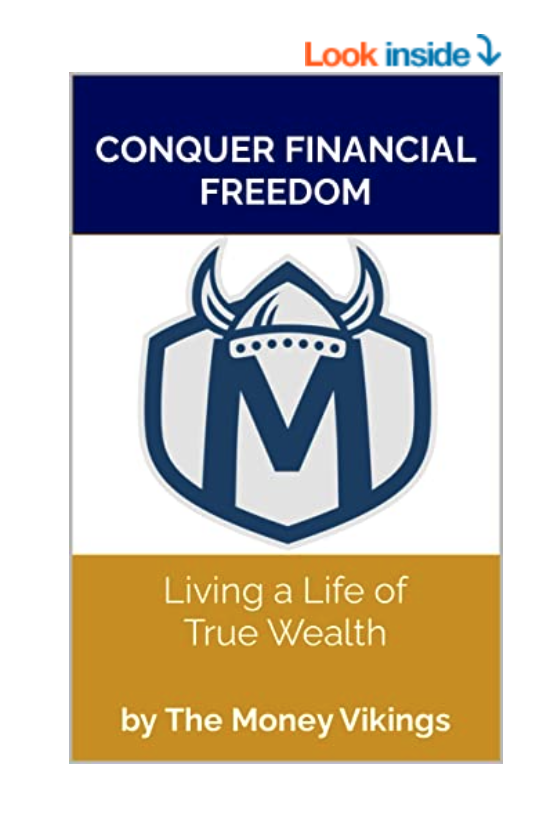 Check Our our Info Graphics

Political Cartoons

Weekly Newsletter Dropped Into Your Inbox
SPY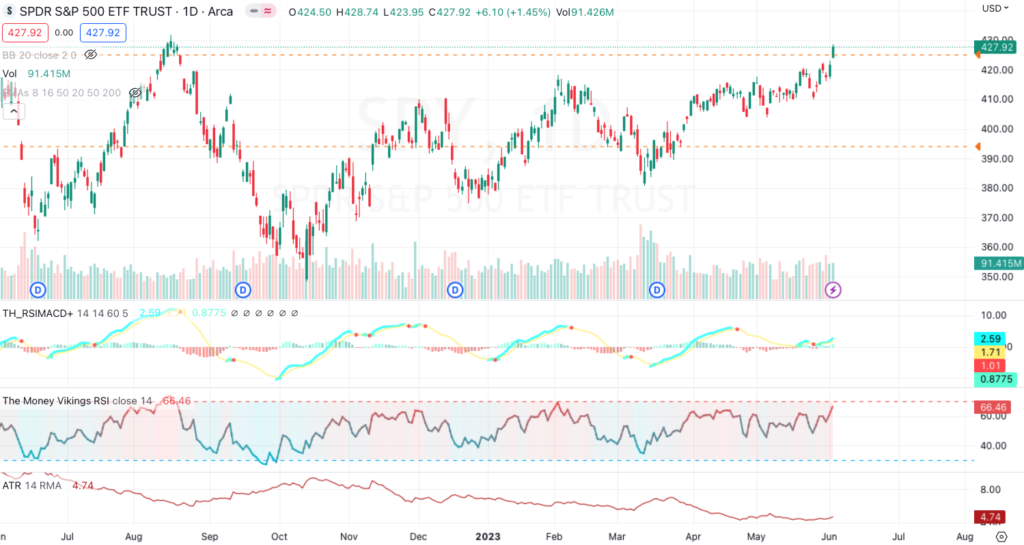 The Fear and Greed indicator stayed in Greed.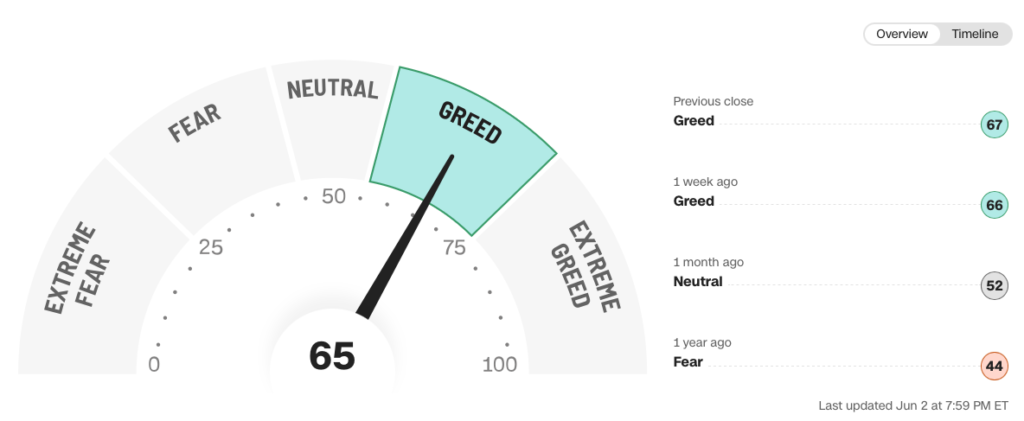 We're On YouTube!
Come to our Discord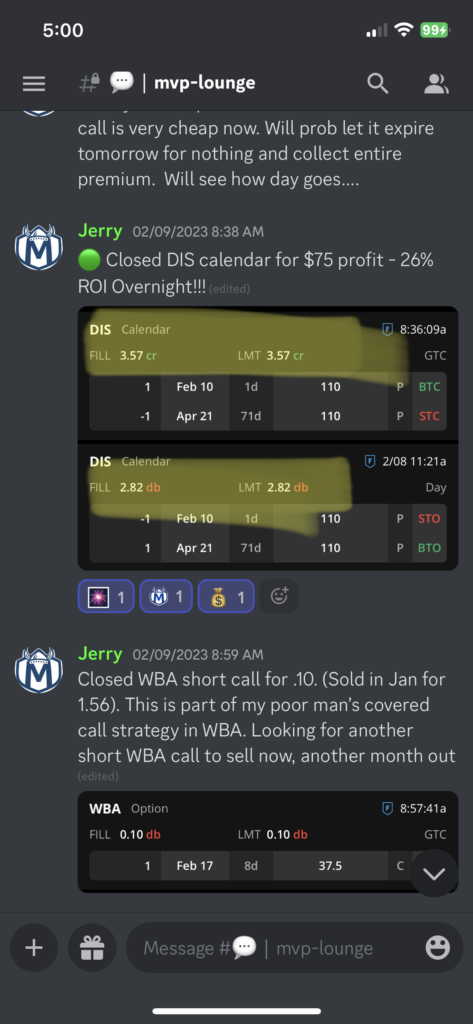 Newsletter Archives, Cheatsheets for Trading
Did you know premium members can download Candlestick Charts, Divergence Overviews, Dividend Worksheets plus Bullish and Bearish Technical Indicator PDFs? In addition, all of our premium newsletters are stored for reference here. You can even comment and discuss trade ideas with us there as well.
All rights reserved. Money Vikings is neither an investment or financial advisor. Money Vikings does not provide financial advice and none of the information being provided is to be seen as such. This is to include, but not limited to, any articles, videos and/or any other social media outlet presented by Money Vikings. All content is the opinions, beliefs, and personal strategies of the author(s) and owner(s) of Money Vikings (Greg, Jerry). Money Vikings recommends that everyone do their own research, technical analysis, and develop their own conclusions, prior to initiating any trade activity supported by their own understanding, abilities, and risk tolerance. All trades carry inherent risk and proper risk management strategies should be used accordingly. Money Vikings does not guarantee results and is not liable in any way for losses incurred by any person or organization. Periodically, we may highlight services we are using and may receive compensation from their respective affiliate programs.
In order for this post to rank better, it should have 600 words instead of the regular 470. Therefore we are filling space here as an experiment to see if we can get the number of words to bass the basic SEO test. This article was originally about the finviz heat map that we look at each day to see how the market does. Strange thing happened though, without us realizing it, the keyword finviz heat map turns out to be one of our more popular keywords that drives this site traffic. We love finviz at the Money Vikings, so we decided to keep it in our posts and use that to show others all of the other cool services we offer like trading ideas, saving ideas, weekly newsletters, a discord, and cheat-sheets for trading. Hope this is helpful and we hope you become members and friends in our great community!